Lessons Learned – Winning in the Face of Adversity
We'd like to think that our CMO goes on to have a successful run with the new company; maybe we'll revisit him (or her) in the future and find out!
But for now, we'll be satisfied with offering our point-of–view on specific business aviation marketers that most certainly (in our opinion) have been successful since the Great Recession.  We call it "winning in the face of adversity":
Winning in the Face of Adversity – Chapter 16
We also offer our take on an actual recent (2016) decision made by Textron Aviation that we think, from our analysis, may be misguided:
Cessna or Beechcraft? Leader or Challenger? Perspective on a Real Life Marketing Decision – Chapter 17
We'll close with this summary piece:
Keys to Aviation Marketing Success Over the Next Ten Years
Chapter 16 – Winning in the Face of Adversity
With the market pressures resulting from the Great Recession of 2008-2009, one might think it difficult to find aviation businesses that can say they have "put things in the warehouse that are easy to get rid of". But indeed, through good strategic planning, product positioning, and product support, we think there are clearly some that have come through the economic tumult as winners. For example, we think of airframe OEMs Gulfstream Aerospace, Embraer and Pilatus, plus avionics OEM Garmin. Here's why we think so –
Gulfstream – a trusted Leader that continues to define the playing field
It is rather easy to select Gulfstream Aerospace. The company has always catered to the heavy jet, long-range market and so was perfectly positioned to leverage the upswing in demand from Asia and the Middle East during the recession.
We refer to Gulfstream as a leader brand for a number of reasons. From the standpoint of pure metrics, you can check GAMA shipments for aircraft competing in the long-range market and see that Gulfstream has led in market share for more than ten years (refer to Long-Range Jet Shipments table below). You can also look at standings in product support surveys such as conducted by Aviation International News and see that Gulfstream has consistently finished first or second over the past decade (refer to Product Support Ranking table below).

What's the essence of this success? If we look at what has happened over the years, we see that success is much more than offering the best product. Consider this: when Bombardier started deliveries of the Global Express in 1999 it was, in our minds at least, a superior choice for the long-range mission. It was a clean sheet design with a wide body cabin, futuristic avionics, and advanced cabin systems.
So why did the Gulfstream GV/550 dominate deliveries with its older, narrow body design? We think it was the attention Gulfstream paid to the full range of details that make for a successful product such as anticipating and putting in place the infrastructure to provide on-time delivery (completions capacity, pilot training, parts availability), strong technical and field support, responsive customer service, and leveraging brand loyalty through an effective sales strategy. Bombardier fell short in a number of these areas and gave up potential market share gains as a result.
And when Gulfstream introduced its new G650 just as the Great Recession was unfolding, rather than pull back the program, it seemed perfectly timed for the emerging demand for a bigger, longer-range product. Their success speaks for itself.
Embraer – a true Challenger brand: clear ambition and focus; energy and commitment of resources; a product with demonstrable innovation and value
For somewhat different reasons, we think Embraer has also been a winner as a Challenger brand – challenging the status quo, most notably the dominant Cessna Citation products.
Despite the inopportune timing of starting deliveries of its Phenom 100 in 2009 as the Great Recession was in full roar, Embraer's line of clean sheet products were exactly what the market was looking for accompanied by the backing of excellent customer support. Embraer's market share continues to grow with the introduction of additional models. Its product support rankings quickly went from nothing (NA) in 2010 to reach the top tier of OEMs in 2013 – indicative of a dedication to quality products and customer support.

Garmin – riding a key technology to broad product Leadership
In the avionics world, there's a similar story. One brand that has continually moved forward is Garmin. A relatively young company by aviation standards, Garmin entered the aviation market in the early 1990s with GPS products for aircraft panels and as handhelds. (Remember the Garmin GPS 90? It's still around). Garmin was an early adopter of GPS for navigation and leader in the use of graphical interfaces. The company developed its own software logic that it uses across product lines – meaning a short learning curve for upgrading to new products with the added benefit of capturing customers for brand extensions. Their focus on GPS soon evolved to include related navigation and communications gear integrated together – often in the same physical unit.

While the early appeal of Garmin products was to general aviation and amateur built aircraft markets, Garmin also has become a leader in business aviation avionics where today they are OEM specified in everything from Skyhawks to top line business jets.
Garmin's corporate Vision statement: "We will be the global leader in every market we serve…" clearly states their objective. The company has made their Mission and Vision come alive through active involvement in all their markets, understanding customer needs, how customers use their products, and building a product that is durable, of high quality and offers good value.
Pilatus – turning an underserved niche into a profitable segment
We also think Pilatus, specifically the PC-12 series, deserves some mention here as it occupies a somewhat unique position in the business aviation industry. The company has more or less stayed in the shadow of the major airframe OEMs for some time while successfully carving a niche market for its single engine turboprop. Think of the PC-12 as a "crossover" between a utilitarian single engine turboprop a la the Cessna Caravan, and the cabin size and comfort of the Beech King Air series.
Introduced some 20+ years ago, the PC-12 began with limited infrastructure for sales, service and support. The Swiss-based manufacturer slowly and steadily built a following among operators who recognized the versatility of the PC-12, its reliability, its pilot friendly cockpit and its price advantage over twin-engine turboprops. Like other top line brands this niche marketer weathered the Great Recession by introducing a next generation aircraft – the PC-12NG – and continued its successful growth story with little interruption.
More than 1,400 PC-12/PC-12NG have been delivered. At least one major OEM – Textron Aviation – has finally awakened to the success of the PC-12 and announced its own single engine crossover.
Perhaps encouraged by its success in the turboprop segment and the maturity of its product, Pilatus has once again set out to create a new segment, this time in the jet market. It's PC-24, a twin-engine jet, extends the crossover concept to the business jet market with the same utility/business model it used in the turboprop market. It should be an interesting product to monitor for acceptance. If past performance is any indicator, it will do well.
We could cite other examples of success stories but the point to be made is that successful brands are about more than product – they are about the entire customer relationship experience—from first contact to purchase to aftermarket support.
All of which fall under our rubric of "marketing" – creating products that are easy to sell . . .
Chapter 17 – Cessna or Beechcraft? Leader or Challenger? Perspective on a real life marketing decision

 When Textron announced that their new single engine turboprop would be part of the Cessna family, it should not have surprised anyone.  After all, the design was developed by Cessna, and a single engine turboprop had long been a concept Cessna had considered.*
But during the development period of the new design, Textron purchased Beechcraft — a company renowned for its King Air line of turboprop products, and one that could use an infusion of a new product to its stable of leading but older products.
When Textron unveiled a sketch of the new "Denali" turboprop, one could not help but immediately think of the design's similarity to the Pilatus PC-12 – a single engine competitor to the King Air 200 series.
Here in the form of the Denali was a single engine turboprop design with a very complementary Beechcraft-like feel to it. So introducing the Denali as a Cessna product rather than a Beechcraft was indeed a surprise.
So as the new CMO of our hypothetical company, what would you do?
Cessna's previous attempts at producing turboprop aircraft have resulted in only one notable success – albeit a great one – and that is the utilitarian Caravan series.
The new Denali is more of a comfortable business aircraft with utilitarian aspirations. It is clearly designed to compete with the Pilatus PC12/12NG that has pretty much owned the high end, luxury single engine turboprop market since its entry into service in 1994.
Not only is the cabin of the Denali focused on comfort (even the aircraft's window shape is similar to a King Air's oval as opposed to the Caravan's rectangular design), but a look at the table below indicates its performance and specifications clearly put it in the King Air / Pilatus class.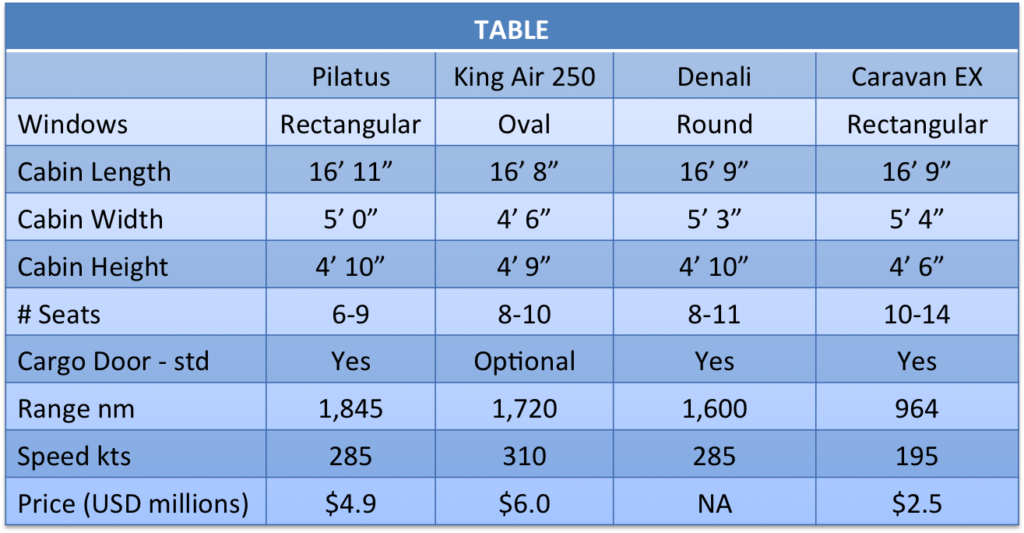 How does Cessna plan on selling the Denali? What is the Denali's Sales Proposition? Let's take a look for some hints:
Cessna's online brochure states: "With a class-leading cabin, better performance, and superior economics, the Cessna Denali offers the highest level of comfort and productivity available in its category." (Now that doesn't sound like a freight carrying, regional airline equipped Caravan, does it?)
Compare to how Beechcraft describes its King Air 250: "The most popular business turboprop in the world, the Beechcraft® King Air® 250, now provides cutting-edge touchscreen avionics technology, greater passenger comfort and enhanced payload options to deliver more people to more places in unprecedented comfort."
Using the tools we employ to analyze business aviation marketing and selling problems, here are several observations:
The Sales Propositions for the Denali and King Air 250 both emphasize superior productivity and comfort, and thus seem to occupy the same space, with virtually no differentiation.  This is not good. Would it not make more sense for the Denali to be branded as the King Air of single engine turboprops — thereby extending the sales proposition into a different class of turboprop, i.e. single versus twin engine?
Beechcraft's King Air family ("most popular business turboprop in the world") is a true category Leader. Having a category Leader is both special and precious, but the Leader needs ongoing innovation and reputation management (if not enhancement) to maintain the top position. Did Textron miss an opportunity to both take advantage of and enhance the King Air turboprop brand position?
If Denali is, then, not part of a Leader brand then it is a Challenger, and starts out with several disadvantages, chief of which is initial (lesser) market place awareness and reputation. One would also ask: is Denali challenging both the King Air 250 and the PC-12? The apparent answer is yes, which again we suggest makes the path to success more complicated.
As an outsider looking in, it's interesting to speculate. Perhaps the decision came down to the simple fact that the Denali was a Cessna design and Cessna is the dominant Textron brand. Perhaps it portends the future branding scheme for Textron, i.e. the Beechcraft brand will not be expanded beyond its current reach, which essentially would mean that Textron is willing to let the King Air Leadership brand eventually fade into "Other" brand territory.
So – once again – you have to wonder, has Textron missed its best long-term ROI opportunity by not leveraging the King Air brand, which is still, today, one of the top aviation Leadership brands? When we look back at this in ten years  the answer will be clear, but for now we can only speculate on the wisdom of the decision.
* Did you know the Cessna Mustang light jet was originally designed as a single engine turboprop?
Summary – Keys to Aviation Marketing Success Over the Next Ten Years
In the early chapters of this book (Part I) we made the argument, supported by data, that certain structural aspects of the business and general aviation markets will prevail over the next decade, creating much adversity:
The effects of the Great Recession are still being felt, sales of new aircraft have not rebounded to pre-recession levels, and several sources (besides our own calculation) forecast this situation to hold for the next five years or more.
Affecting demand for new aircraft is the current glut of used aircraft; the resulting price difference between new and used is unprecedented; it's a buyer's market, and buyers know it.
The need for clear differentiation, clear value, and focusing on a niche to dominate has never been greater.
In Part II, we shared our perspective on what "business aviation marketing" really means, the critical importance of marketing performance and ROI measurement, structuring an efficient sales force, the use of media – especially digital media – to help sell your products and tell your story, and how to most effectively use aviation industry trade shows.  The common thread in all of this was the recent and rapid change that B2B marketers, including those in business aviation, have had to contend with.
We attempted to bring some of these issues to life in Part III with our story about a fictional current day business aviation marketer, and in Part IV offered our perspective about very real current day business aviation marketers who, in our opinion, have in fact done pretty well, despite adversity and change.
For our final thoughts, we offer keys to aviation marketing success over the next decade:
First – this may seem tautological, but the place to begin to find marketing success is to be successful at marketing; now remember that we have from the start of this book stipulated that we define selling as "getting rid of what you have in your warehouse" and marketing as "putting product into your warehouse that is easy to get rid of." To the extent, then, that if you have difficulty selling your current products we submit it is because of one or more of the following reasons:
When you conceived and designed (what has turned out to be) a problem product you had insufficient differentiation on key attributes either versus your competitors or within your own product line.
A related point: perhaps you are trying to sell too many products, with again, not enough differentiation. For example, does the Pareto Rule, commonly called the 80/20 rule, apply to your product line? In other words, do 80% of your sales or profits come from 20% of your products? Conversely, do 80% of your "problems" come from 20% of your products?
Are you trying to cover too much product line breadth, to be "all things to all people?" Would you, instead, be better off working to dominate a profitable market niche, a niche where you can establish a Leadership position?
Do your products offer competitive value? Is your quality/price equation superior to, or at least no worse than, your competitors?
In Chapter 16 ("Winning in the Face of Adversity") we pointed to Pilatus as a company that's had marked success, and it has largely adhered to this framework with its single engine PC-12 turboprop: a niche focus with a single product, one that has established a Leadership position by offering real competitive performance advantages (i.e. differentiation) at a strong value. Now Pilatus is carefully adding a jet aircraft to address a similar yet still different niche, and while this new airplane will be a Challenger brand it will be much advantaged in that it stands on the strong awareness and positive reputation that the turboprop has forged.
Second – it is critical that you manage emerging technology innovation wisely. Often it seems that aviation is extremely cautious and incremental in adopting new technologies – for good reason – and the last true "leap forward" was the introduction of the jet aircraft engine to business aircraft decades ago.
Yet the trade press is often full of speculation on arrival dates of new technologies, perhaps the most dramatic an SSBJ able to fly over land due to sonic boom mitigation – an advance to rival the jet engine. And there are prognostications on drone (unmanned) aircraft, use of virtual reality (VR) tools for MRO training, and coming Big Data applications that will make sense – and use – out of the terabytes of data that will be flowing from real time monitoring of aircraft and their many subsystems.
But leading-edge advances must not become bleeding-edge costs that can add to the price without a corresponding rise in performance or quality. As anyone who's old enough to remember Beechcraft Starship can attest, new technology can have both pros and serious cons.
Use technology, but make sure it is already proven (someone has to be the first mover on new technology, and there can of course be tremendous ROI, just don't be the unwitting guinea pig); make sure you understand it; that you can adapt it into your manufacturing process, and know what that entails and what it will cost; and you have a plan for the continuing exploitation of the technology: it's not just a "gee whiz" singular application.
Garmin, another company we pointed to as an aviation winner, took its total understanding of the possibilities of global positioning technology and used that expertise in imaginative ways to grow to a Leadership position in avionics.
As a coda to these first two points let's remind ourselves of this comment from Peter Drucker:
"Because the purpose of business is to create a customer, the business enterprise has two – and only two – basic functions: marketing and innovation. Marketing and innovation produce results; all the rest are costs. Marketing is the distinguishing, unique function of the business."
Third – we touch briefly on the area of brand issues in this book, first in our CMO story in Part III and of course in our Glossary of Brand and Marketing Terms (and much more can be found on this subject at our website, wrg-aviation.com).  But understanding your current Brand Position (and what kind of brand you are, Leader, Challenger or Other) along with the occasional necessity to design or craft a new Brand Positioning Objective to better meet changing company aspirations or goals, will be a critical component of success.
We've cited Embraer as a successful Challenger brand that created a new brand position as it moved from only being a maker of regional airliners to add a business aviation product line.
Fourth – understanding your customer is our final key, and we've discussed profiling your customer via targeting and specific sales propositions, using both demographic and psychographic tools as well as other market and customer research tools.  And remember, knowing and advocating for the customer is the one clear area of expertise the marketer must have over the other disciplines of engineering, manufacturing, finance and so on.
But what we want to add here is a plea to understand the generational changes that are happening within your customers' organizations: the older baby boomers are now retiring from their CEO, President and Owner positions, with younger boomers not far behind. They'll be replaced by Generation X (current managers, directors, VPs), and of course the Millennial generation (today's project managers, engineers, marketers and sales staffers) will follow along. (And while these changes are happening at your customers, guess what – they're also taking place at your company.)
Certainly there are similarities and differences between these age cohorts, but here's the critical issue: what do they think about business aviation? About flying around in a corporate jet that can cost millions to acquire, operate and maintain? They may have very different perspectives and value judgments, and you must understand these issues for the slice of business aviation that your company serves.
There are as well cultural differences to address as the use of business aviation continues to expand worldwide. Demographic and psychographic profiles across the globe vary considerably and need to be addressed by marketing from product inception all the way through brand positioning.
In short, marketing must address multi-generational, multi-media, and multi-cultural issues to successfully navigate the post-Great Recession era.
To recap, focus on:
What marketing really means: putting product into your warehouse that is easy to sell
Wisely managing technology innovation (don't let it control you)
Knowing what kind(s) of brands you have, what that means, and acting accordingly
Know your customer, paying special attention to generational differences in experiences, attitudes and beliefs
Best of luck in your business aviation marketing adventure.
Mark Ryan and Chris Pratt
Dallas, Texas
2017