For veteran attendees of the National Business Aviation Association's annual trade show (BACE), the atmosphere was, shall we say, low key. There was no real buzz to the show; perhaps this was appropriate for an industry still struggling to recover and come to grips with a changed market post the 2008-2009 Great Recession.
Nevertheless, I was left with some distinct impressions from the event both in terms of the direction of the industry and how some exhibitors are creating their own level of excitement.
STATIC DISPLAY – THE PLACE TO BE
As a former exhibit manager and thus usually chained to my indoor display booth for the duration of the show, I have only infrequently had a chance to visit the static display. This year I was freed from booth duties and made the static area my first stop; oh my, how it has grown over the years. If your target audience is pilots, this is the place to be.
It occurred to me that the BACE show has actually become two shows: the exhibit hall for aftermarket vendors and suppliers, and the static display for airframe OEMs and used aircraft brokers. A decade ago, attendees would divide their time between the two sites, with Day 1 typically being exhibit hall day for meetings and Day 2 being static display day for tire kicking. Day 3 was always catch up day before departing. Nowadays it seems people gravitate to one or the other location and stay.
I suspect this trend became more pronounced after the 2009 Orlando NBAA when the new aircraft delivery recession was hitting full stride. Most of the airframe OEMs abandoned their indoor exhibit spaces and retreated to the static display as their venue of last resort. Since that time more and more emphasis seems to have been placed on the static area by aircraft sellers and less emphasis on the indoor exhibit area.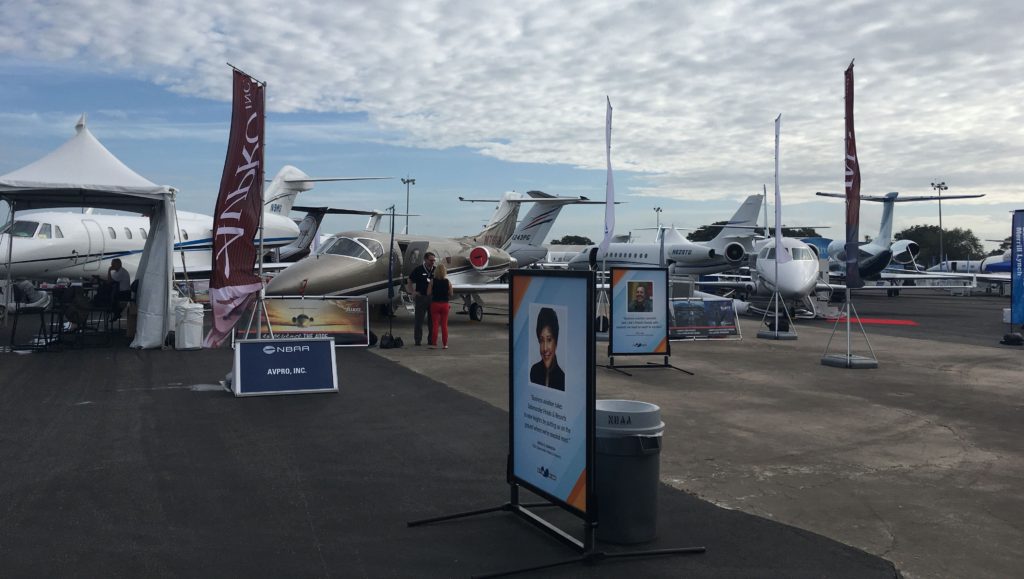 THE RISE OF USED AIRCRAFT
A few years ago, in an effort to get more exposure for its members, the National Aircraft Resellers Association (NARA) pooled its members together to secure a dedicated area of the static display to showcase used aircraft offerings. The idea stuck and now accounts for a good share of the increased traffic as mentioned in Item 1 above. NARA has become a growing force in the industry as the effect of a large volume of low-time used turbine aircraft has become a major factor in today's buy-sell market. Expect this area to continue to grow.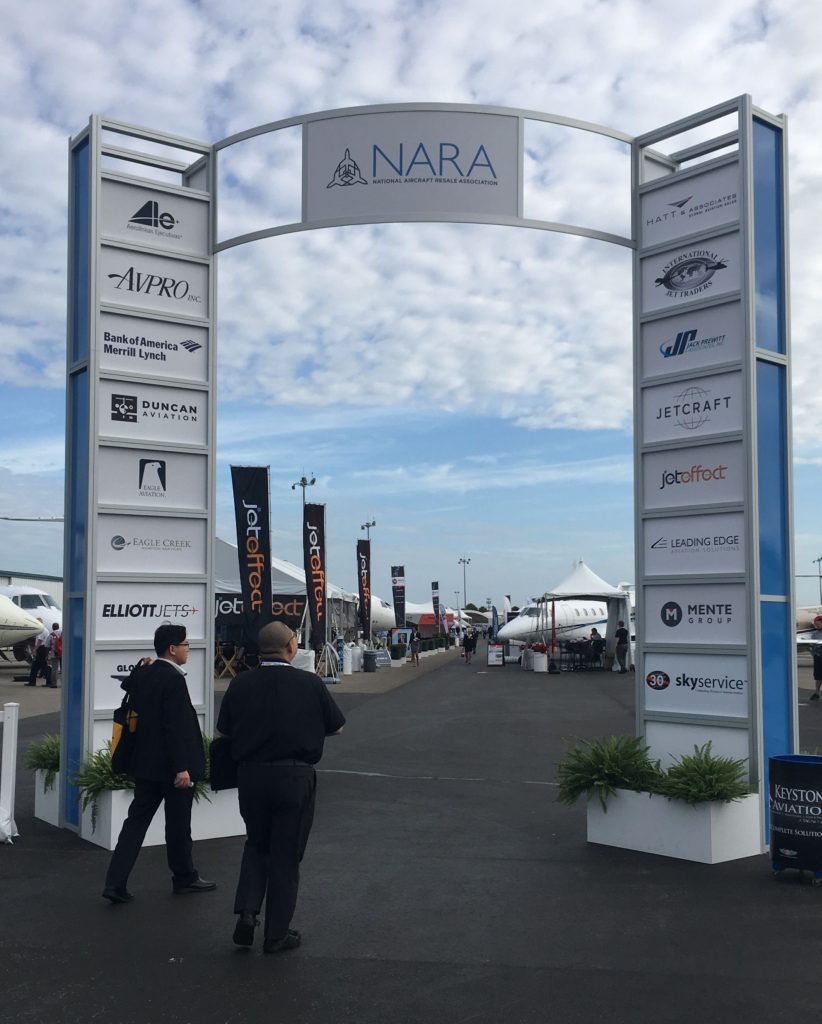 TAC-AIR / KEYSTONE AVIATION
I always appreciate it when an exhibitor takes advantage of an opportunity – in this case its location. As you entered the ramp of the static display at Orlando Executive Airport, you were greeted by smiling hosts and hostesses from TAC-Air and Keystone Aviation offering free water and sunscreen. It is Florida after all. Good idea and memorable. Thank you.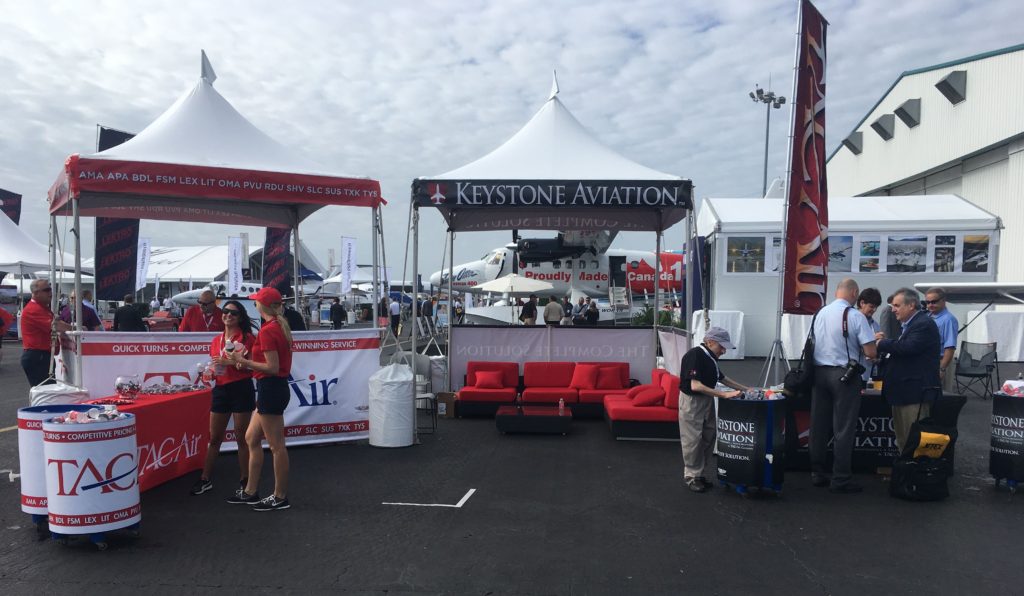 C&L AVIATION – ENGAGING PROMOTION
It's never easy to rise above the noise of pre-show communications clamoring for attention regarding NBAA. But C&L Aviation appears to have succeeded with production of a tongue-in-cheek video campaign where the CEO mistakenly thought the company had been invited to participate in the NBA basketball tournament. Making good use of social media, a series of three videos provided entertaining content while getting across its point by highlighting the company's team and skills. The C&L booth followed through on the basketball theme to complete the picture. It was a great way to build social media followers, promote a company better known to regional airline operators than business aviation, and demonstrate the personality of the brand. Engagement is what social media is all about, and this provided a good example of what can be done.
EAA – SPIRIT OF AVIATION MOBILE TRAILER
One of the more laudable displays to appear at BACE this year was the unveiling of a new EAA Mobile Trailer – an 18-wheeler containing a hands-on mini-workshop area, flight simulators and a virtual reality video about the EAA Museum and Airventure air show. The mobile trailer will be appearing at cities across the USA as part of the association's ongoing drive to recruit new people to aviation, especially young adults looking at career choices. EAA is to be commended for taking the aviation experience on the road and its pro-active approach to helping ensure the future of aviation.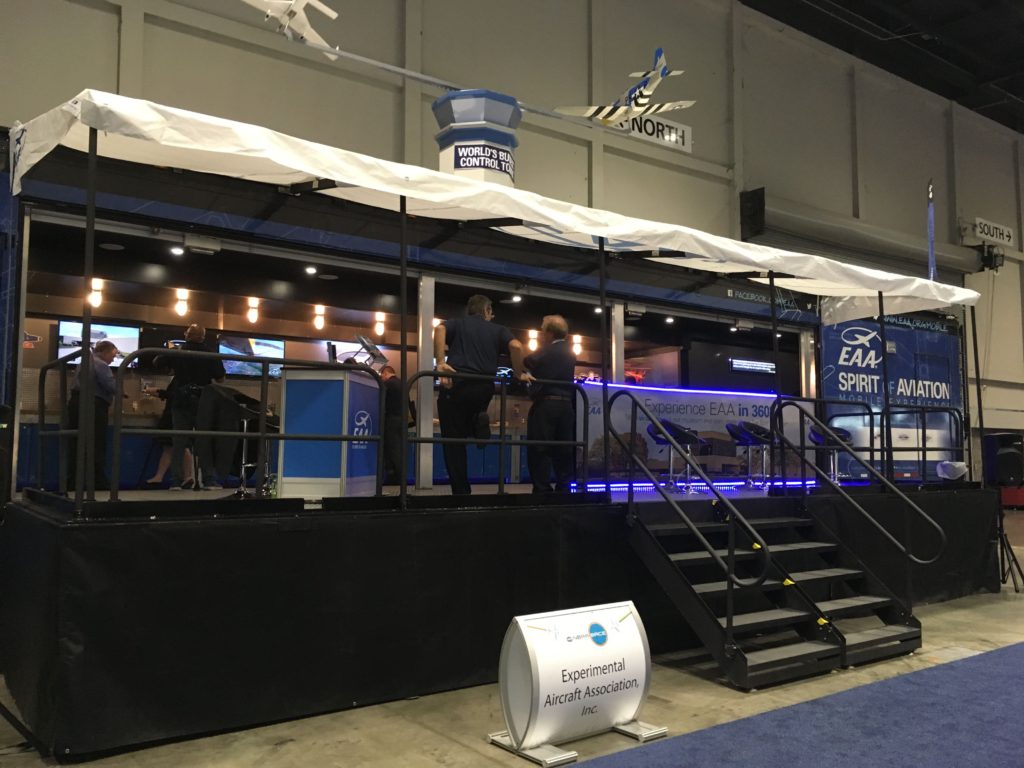 Chris Pratt
Orlando, Florida
November 3, 2016