An Opinion by Chris Pratt
I've been tracking business jet flight operations for years as one of my gauges of industry health. I have to say, this particular measure continues to transmit some confounding signals.
According to FAA* data, the total number of Business Jet Operations (domestic and international) reached a high of 4,824,960 for the year 2007. After that, operations declined through the Great Depression of 2008 and 2009 before beginning to rise once again.
But here's the rub: fully ten years have passed and the total number of operations have not yet reached their previous high despite the fact there are now approximately 58% more jets in the U.S. fleet.
Let that sink in for a moment.
The U.S. fleet has 58% more jets than it did pre-Great Recession yet, in total, those jets fly fewer operations (see chart).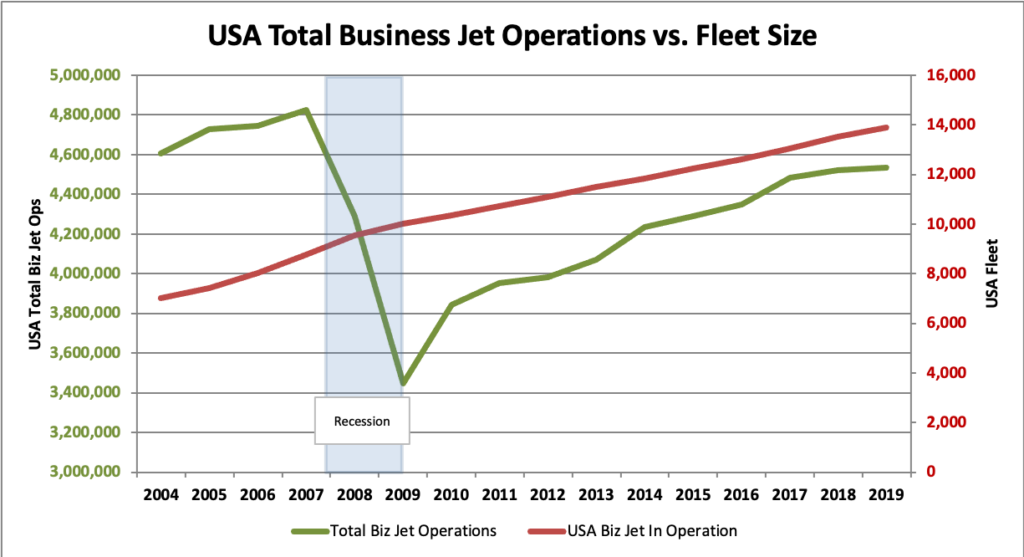 Yes, I know jets are flown less as they age but this is only a 12 year time span, and truth be told 20 and even 30-year-old jets are still quite active players. (By the way, retired jets have been removed from the data.)
Peeling back the data a little further show that between 2007 and 2019 the jet fleet expanded at a compound growth rate (CAGR) of 3.91%. Which is consistent with the current Honeywell growth projection for the next ten years of 3.48% CAGR.
Operations, on the other hand, show a domestic ops CAGR of 2.73% since the 2009 low through 2019, while international business jet operations turned in slightly better positive growth at 2.98% CAGR for a combined total of 2.77%.
Are the lower number of operations simply a lack of demand? Doubtful, since why would so many expensive new jets be purchased when there are plenty of more affordable pre-owned jets already in the market. Perhaps the decline in fractional ownership during this period has had some effect (a topic for another time), or the rise in turboprop activity by providers such as Wheels Up may have taken business away (sadly, comparable FAA data is not collected for the turboprop segment).
So, what is the takeaway here?
Well, for MRO, FBO and other business jet service companies, lower activity quite simply means less business within a comparable time span. It also suggests that the level of new jet deliveries for the segment may stay pretty much where it stands now for the foreseeable future; that's something for OEMs and their planning departments to ponder. And perhaps, it points to the likelihood of further consolidation within what appears to be a mature, lower growth industry.
Your opinions are welcome.
Best regards,
Chris Pratt
February, 2020
Chris Pratt has more than 40 years experience in the business and general aviation market as a researcher, strategist, communicator and branding specialist. He currently serves as a consultant for William Ryan Group – Aviation. He can be reached at +1 214.208.2667 or email at [email protected].
* FAA ETMSC data through December 2019 subject to revision